NEWS - Global-4PL Executive of the Year: Mr. Sergio Retamal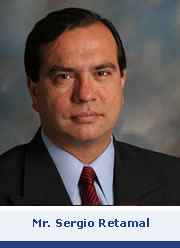 Executive of the Year,
Mr. Sergio Retamal

Sergio U. Retamal was honored as the "2005 Executive of the Year" at the annual conference of the International Transportation Association in Las Vegas.

Mr. Retamal, has over seventeen years of professional experience in logistics/operations, account management, sales, purchasing, materials management, and transportation management. He holds a masters degree in change management from Pepperdine University 's Graziadio School of Business, and an MBA in International Business from California State University, Northridge.

Mr. Retamal has in-depth expertise in international trade, distribution systems with technical expertise in U.S. Customs, export regulations, international transportation, supply chain management and global logistics programs. Mr. Retamal has extensive experience in North America, Asia, Latin America and European markets.

Mr. Retamal has saved large corporations over 22 million dollars in supply chain costs during his career. He has achieved large savings by negotiating aggressively while implementing efficient and innovative global supply chain programs.